As an Amazon Associate, I earn from qualifying purchases.
One of the things that I love that I get to do is collaborate with other health professionals and entrepreneurs. When my colleague, Kendra Perry, reached out to interview on The Wealthy Health Coach Podcast, I immediately jumped.
In this podcast episode, we talk about the culture of thinness and the challenges that many of us face when we cannot live up to unrealistic body standards. We also discuss the importance of creating a weight-inclusive practice, intuitive eating, and body image.
I truly enjoyed talking about this critical topic with Kendra and their listeners. If you want to check out the interview, listen on Apple Podcasts.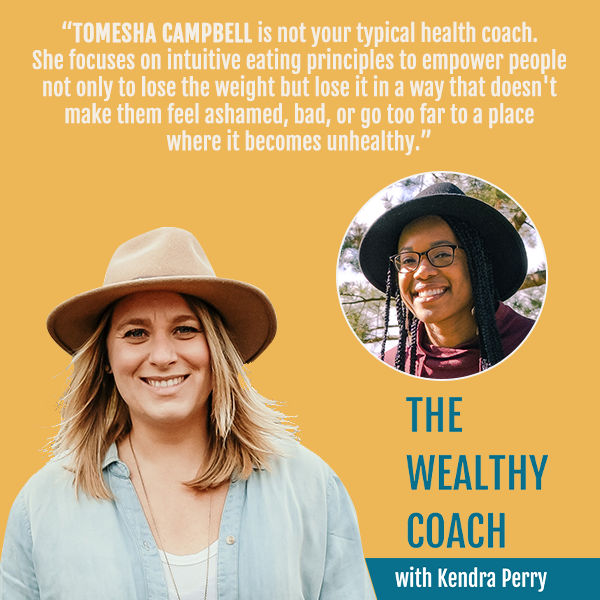 What we covered in this episode:
[2:28] How I got started and what led me to become a health coach.
[4:11] Why it's so hard to let go of the desire to lose weight.
[5:08] Why the standards we often look to achieve are unrealistic and unnecessary?
[5:51] How I overcame the societal conditioning and pressure to be thin in the military.
[8:02] How

practitioners and coaches can

promote healthy habits versus restriction.
[11:10] How the desire to lose weight can be an invitation to work more on body image.
[12:16] The consequences of weight-centric lifestyle interventions.
[14:12] Orthorexia and how we can lose trust with food.
[16:18]

The challenges around food sensitivity testing and elimination diets

.
[17:40]

The impacts of being too restrictive with foods on your social life

.

[18:31]

How to be mindful of our language as practitioners and coaches.

[21:03]

The interventions we can use if we notice restrictive behavior in our clients.

[26:20]

Why we should, as practitioners and coaches, be mindful of our clients' baggage.

[27:20]

The lifestyle interventions that we can use to promote a more weight-inclusive practice.

[29:38]

Why I created the Intuitive Eating Basics for Health Coaches Guide.
Resources mentioned in this episode:
Disclaimer: By listening to this podcast or reading this blog, you agree not to use this podcast or blog as medical advice to treat any medical condition in either yourself or others, including but not limited to patients you are treating. Consult your physician for any medical issues that you may be having.